Ah yes, we've seen it all. Take one stroll down Broadway and you're liable to see everything from hot pink wigs to boots and tutus. Although it might not be the first topic of discussion in the mile long group message (that you immediately put on silent) it's no doubt a feature of the bachelorette party that will stain your grid on Instagram for posts to come. So how to choose something that won't break the bank, cause public shame, or sit in your closet for the next 8 months until your next Marie Kondo binge?
Myth No. 1: The bride has to wear white.
The Truth: The bride should stand out. Surprisingly this doesn't mean she has to be in white; we all know the actions of the evening will symbolize anything but purity. You might say 'but how else will everyone know who to buy shots for without the main bach looking like Pope Francis?!' Our response: get creative! There are tons of ways to create contrast using color and pattern.
Chic standout pieces like Molly Green's Gentry Dress can draw attention to the bride.
Try choosing a theme like animal print or floral and having the bride stay in a solid color of her choice. That way everyone still looks the part while expressing their own style but doesn't distract.

Styling by @trulybaileyp and outfits provided by Molly Green.
Myth No. 2: The whole party has to match, all day.
The Truth: The crew should be comfortable and coordinate if you want. But coordination doesn't mean you all need matching $30 tank tops with 'Ash's Trash Nash Bash' written across the chest. Not only are they so 2015, they're kind of wasteful. When exactly will you wear said tank again? Last time we checked, Kid Rock isn't touring anymore. Instead choose matching accessories like fun sunglasses or hats; they won't break the bank and you can wear them again, not to mention the cute Boomerang possibilities!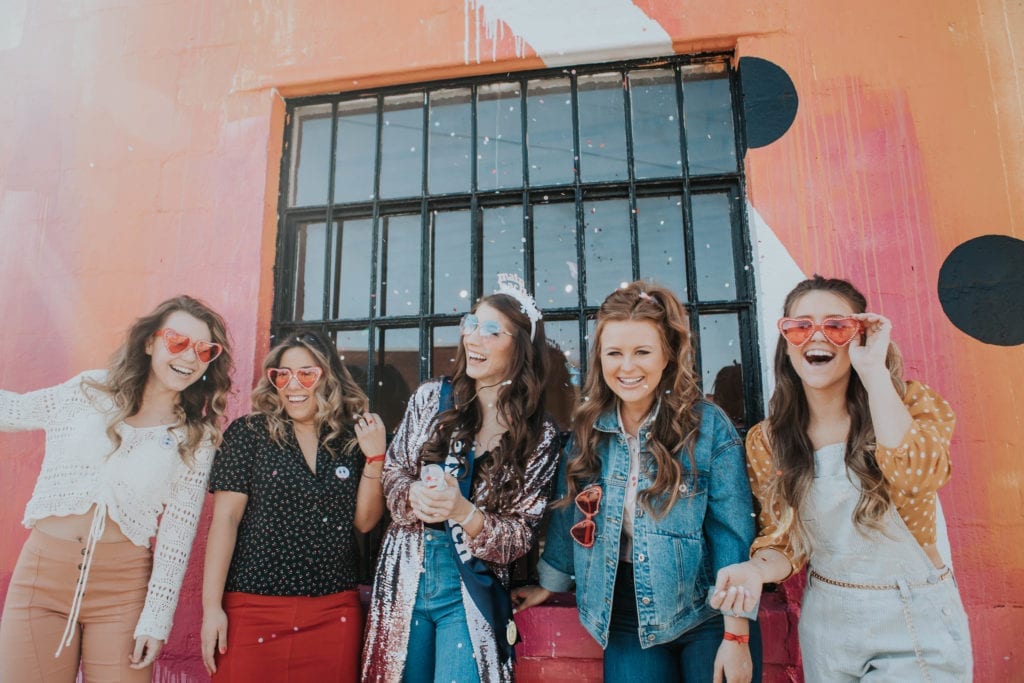 Myth No. 3: The theme should be based on where you're going.
The Truth: Dress for the weather, not the stereotype.It's true, Nashville is known for country music but sweating your calves off in July in cowboy boots is just not a good time. And to be honest, you won't find a local in a 10-gallon hat ready to rope wrangle a steer anywhere near Music City. You might catch a glimpse of Jessie Decker's brother's fiancé at Kayne Prime but she won't be impressed by everyone's 'You're the only Ten-I-See' t-shirts with horseshoes on the back.
Myth No. 4: You need a different 'daytime' and a 'nighttime' outfit.
The Truth: Wear what you'll feel confident in and what's appropriate for the activity planned. We've all done it. Packed Band-Aids in our purse, mentally hyped ourselves up that the blisters will be worth the cuteness, and then two hours into the night end up carrying our heels and walking barefoot. Being distracted/in pain while you're trying to reenact Brittney Spears' 'Hit Me Baby One More Time' music video on the dance floor just isn't worth wearing those adorable but excruciating heels. If you know that top doesn't allow for full range of motion for the big cartwheel finale of your solo dance routine, skip it this time around.
Transitional outfits are awesome. Throw on a Grease-ready leather jacket overtop your high rise jeans you wore during the day and you're ready to rock. Less clothes to pack and less laundry to do when you're home!
Myth No. 5: Everyone has to buy a new outfit special for the weekend.
The Truth: The memories will last longer than the outfit. If bridesmaid Rachel looks terrible in black and doesn't have the extra funds to buy a swimsuit with the phrase 'I-Do Crew' then she shouldn't have to search hours on Etsy to find one. Newsflash: bachelorette parties can be expensive. But at the end of the day the real goal is to have a great time and celebrate your friend in a way that will make her feel loved and special. You don't need to invest additional dough into an outfit, especially if it's compromising anyone's happiness, bank account or time.
If you do want to ball out for your baches, research local boutiques to support shopping small and make stopping in part of the itinerary. *Cue fitting room montage!*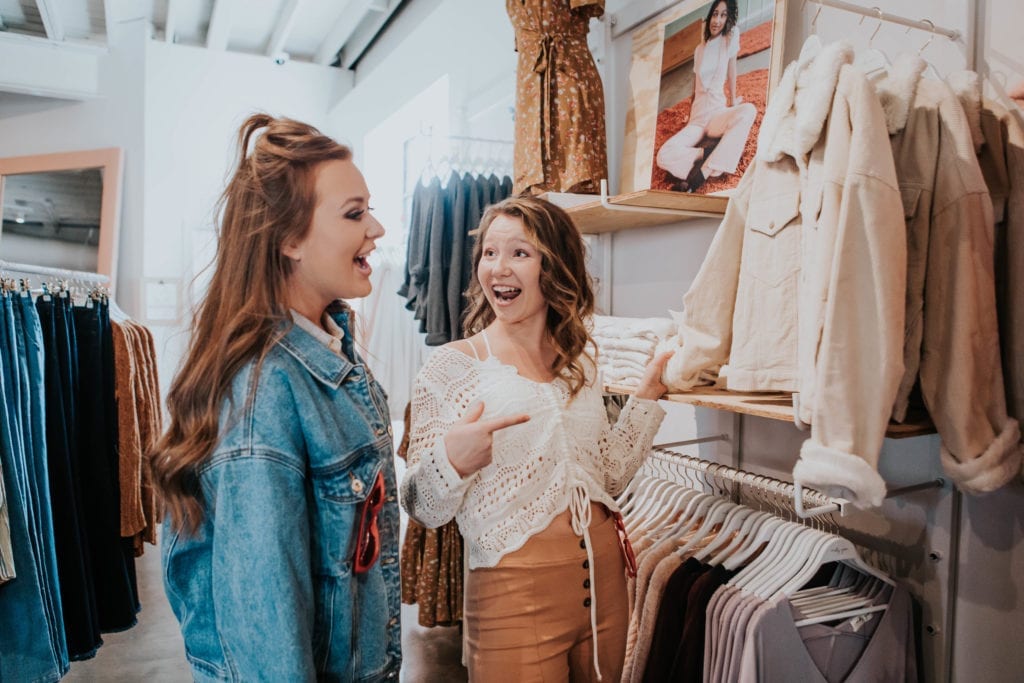 All outfits styled by Bailey Pitts (@trulybaileyp) and provided by Molly Green (@shopmollygreen). Main Bach sash, Main Bach headband, and Side Bach buttons available in the Basic Bach Box.